Co-op Student Finds Home at ITM – Literally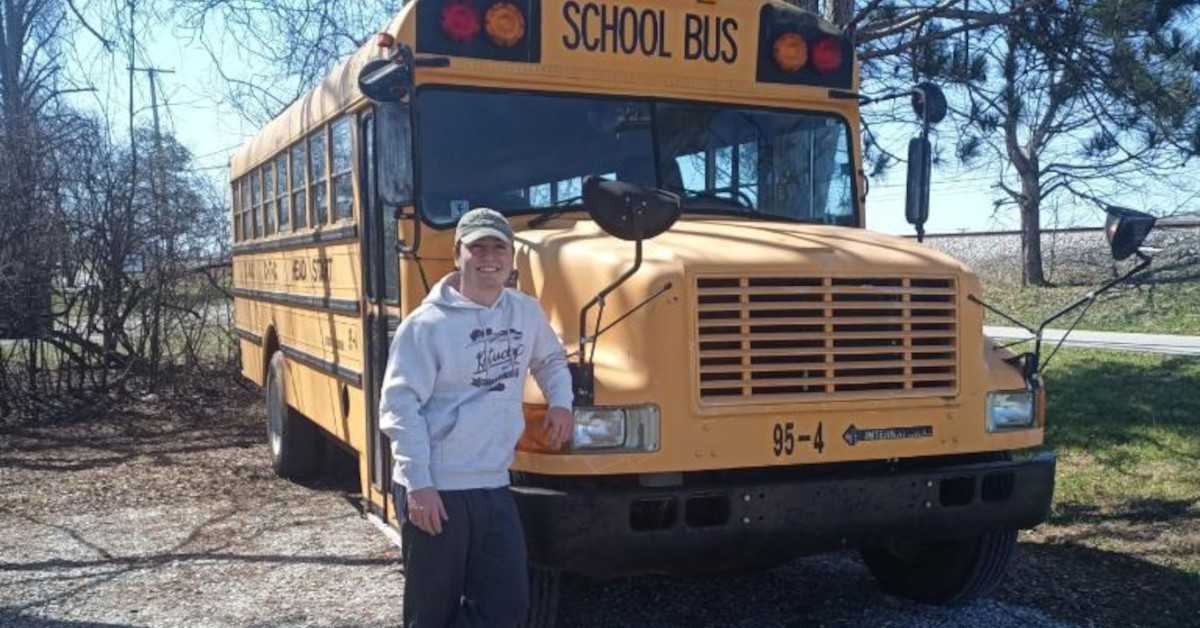 Co-op Student Finds Home at ITM – Literally 
Weston Graham found a whole lot more than valuable job experience while co-oping at Integrated Test & Measurement (ITM). He also found his dream home — a 7-ton bus he would convert into a tiny house on wheels.
The University of Cincinnati aerospace engineering major had joined ITM on a NASA contract testing rocket components in Huntsville, Alabama, when a Facebook Marketplace search unearthed the ideal fixer-upper, a 1995 8-window International bus in his price range.
"I couldn't find housing, and I didn't want to pay $600 a month for rent," he said. "I thought a bus would be fun."
After all, Weston had the mechanical aptitude. Having spent his formative years tearing apart and selling enough go-karts to buy his first car, why not go big? Really big. Only problem was the bus he desired sat 3.5 hours away from his Huntsville hotel room. He talked a coworker into a midnight run through Alabama and eventually parked the bus in his parents Louisville, Kentucky driveway.
"It is the only school bus ever produced with a mechanical DT466 engine," he fawned. "It is a wet-sleeve design, so you can actually change out the cylinders and rebuild the entire engine without ever taking it out of the vehicle."
After months of driving home from ITM every weekend to rehab his Skoolie, he's nearly finished with the RV conversion. With furniture, kitchen sink, bed, closets and more installed before Christmas, he had only some electrical and plumbing work left as he wrapped up his Fall co-op.
The student's ingenuity was no surprise to the ITM team. The Milford, Ohio, engineering firm prides itself on landing co-ops who are problem solvers, then giving them real-world experience. In fact, CEO Tim Carlier believes deeply in giving students the same types of opportunities he received while in college.
While pursuing his mechanical engineering degree at Ohio University, Carlier worked summers and extended breaks at Manta Corp. in the early '90s. At 19, he was scaling a roller coaster at Kings Island to instrument and test the ride overnight. It was extremely valuable experience, and he wants to pass it along to the next generation.
That's why co-ops at ITM find themselves traveling the country on assignment, helping with research projects in the R&D lab or even scaling a massive recovery boiler to help the firm monitor and improve efficiencies in a pulp and paper plant.
For Weston, two co-ops at ITM gave him the opportunity of a lifetime.
"I was at the office getting acclimated and learning how to install strain gauges when they said, 'Well, we have a contract with NASA down in Alabama , and we'd like to send you down there,'" he said. "I mean you can't really ask for much more than that being a first-year aerospace engineering student. That was a really cool experience."
In addition, he liked working at a firm where the company leaders are so accessible.
"I don't think you would be able to say in most jobs as a student that you see the CEO every day and you talk with him and go out to lunch."
For more information about co-op or other employment opportunities at ITM contact Josh Fishback at (844) 837-8797.
https://itestsystem.com/wp-content/uploads/2022/01/Weston-Bus.jpg
628
1200
Josh Fishback
https://itestsystem.com/wp-content/uploads/2020/05/itmlogo_Horizontal_3x1.png
Josh Fishback
2022-01-24 10:30:42
2023-07-28 22:55:49
Co-op Student Finds Home at ITM – Literally