RAC-44 Rugged Data Acquisition System
PRODUCT DETAILS & DATA SHEET
The RAC-44 is a rugged wireless data acquisition system developed for acquiring critical high speed data in harsh environments. This system is perfect for collecting low-channel count vibration, strain and temperature measurements. ITM's battery‐powered cDAQ‐44 can acquire load data from strain gauges affixed to a vehicle's frame and instantly send a wireless transmission to a nearby laptop running ITM's iTestSystem software. iTestSystem is an engineering measurement software platform that enables test engineers to organize, acquire, view, and analyze data from machinery, processes, vehicles and other complex systems. 
 The RAC-44 allows users to take up to an eight‐hour snapshot of a vehicle during operation and gather load, temperature and accelerometer measurements — all without tapping into the vehicle's power source. With this unit, a laptop and ITM's software, users can mount it to a vehicle quickly, and if within standard wireless range, begin pulling data right away without hooking up any cords to their computer. When paired with environmental connectors that are dust and water tight, your test will be ready for all types of rugged conditions.   Link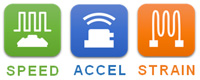 FEATURES
High Speed Streaming
2~50 kHz Sample Rate
Internal Battery (up to 8 hours runtime)
Local WiFi, Ethernet, or USB Connectivity
Dimensions: 4" x 4" x 12"
Additional Customized RAC Systems
Our team of engineers have decades of experience in performing structural testing in the aerospace, off highway, automotive, construction equipment, pulp & paper, and utility markets. We have used our testing expertise to develop a line of Rugged Data Acquisition Systems (RAC) that perform under harsh testing conditions. Use one of our standard packages or let us customize these systems to fit your testing needs. Our engineers can assist you with choosing the best RAC system for your testing conditions.
This rugged data acquisition system is housed in a watertight molded plastic enclosure. This solution is our most versatile package because it provides easy access to the data acquisition components so the system can be customized for additional testing applications.
The RAC-Transport doubles as a shipping container and mobile data acquisition workstation. 
The RAC-MILITARY is a rugged portable measurement solution housed in a military style 19" rack mount enclosure. This system is ideal for testing applications that require a modular solution. 
The RAC-66 is a rugged wireless data acquisition system developed for acquiring critical high speed data in harsh environments. Stream up to sixty four (64) strain and temperature channels and thirty two (32) vibration channels to a laptop at 2-50 kHz. 
The RAC-88 is a rugged, industrial data acquisition system developed for long term high speed data logging and automatic data processing. It's Wi-Fi and Cellular 4G Internet connections allow crucial remote monitoring and test management. This system is ideal for in-vehicle data logging, structural design validation testing, and customer duty cycle testing.