Use FFT Analysis in iTestSystem to Pinpoint Vibration Issues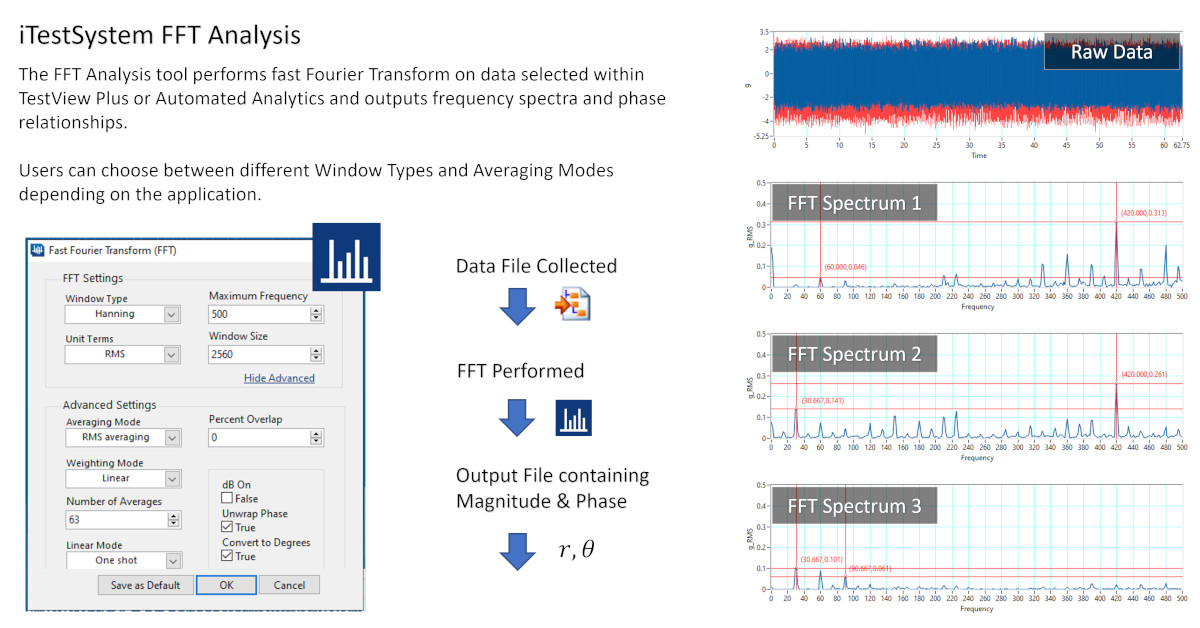 Simplifying Process for FFT Analysis using iTestSystem to Pinpoint Vibration Issues 
The software engineers at Integrate Test & Measurement are constantly looking for ways to enhance and simplify your experience using iTestSystem, their proprietary engineering measurement software platform.
In this blog, a new series by ITM, we'll share some details about one of the features within TestView Plus, the project based data viewing function within iTestSystem. 
Are you one who tires of gathering vibration data in one tool then having to port it over to a whole separate tool to analyze the signal data? Thanks to plugin functionality in the latest version of iTestSystem, you can now manage both functions all from the same screen.
Once you've configured your test using NI MultiDAQ hardware and begun logging strain gauge and accelerometer data, it is time to do FFT (fast Fourier transform) Analysis to further analyze your signals for frequency information to learn how the system you are testing is actually vibrating.  Without leaving TestView Plus, you can simply choose which signals you wish to view, configure a few options on the screen and click the convenient FFT button to output helpful data files for your report or plot directly within TestView Plus to begin isolating specific vibration issues.
Stay tuned for additional iTestSystem features, including a plugin that allows Filter Analysis to quickly weed out unwanted frequencies. 
About iTestSystem
iTestSystem is an engineering measurement software platform that enables test engineers to organize, acquire, view, and analyze data from machinery, processes, vehicles and other complex systems.  iTestSystem was specifically designed for use with National Instruments (NI) cDAQ or FieldDAQ hardware for data collection and data logging.   
For more information about our iTestSystem or ITM's testing services, contact Ryan Welker @ (844) 837-8797 x702.
https://itestsystem.com/wp-content/uploads/2021/07/TestView_FFT_Analysis.jpg
628
1200
Mark Yeager
https://itestsystem.com/wp-content/uploads/2020/05/itmlogo_Horizontal_3x1.png
Mark Yeager
2021-06-01 11:15:41
2023-07-28 23:24:42
Use FFT Analysis in iTestSystem to Pinpoint Vibration Issues