Vibration Data Integration Analysis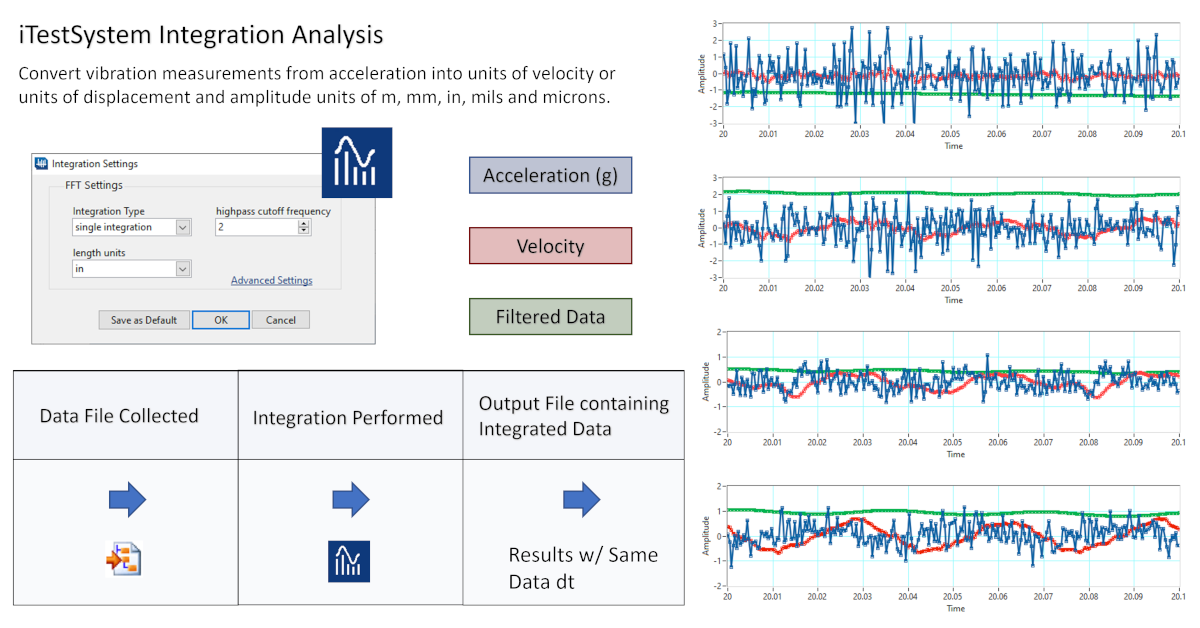 Simplify Acceleration Conversions with iTestSystem's Integration Analysis Tool 
Like many features in iTestSystem, the Integration Analysis tool was created because customers requested it. After all, who doesn't like features that make the math easier?
In this blog, a new series by ITM, we'll share some details about Integration Analysis, one of the features within TestView Plus, the project based data viewing function within iTestSystem. 
For engineers who are gathering vibration data, it makes perfect sense to have a simple way to convert acceleration into units of velocity or units of displacement since those are the most common specs.
Enter the Integration Analysis function. Simply open TestView Plus, drop down the "Analysis" tab and select "Integration." Once there, adjust the settings to either "Single Integration" for velocity or "Double Integration" for displacement. In a couple of additional clicks, you can also specify your desired units and adjust the high cutoff frequency to filter low frequency data. 
The next time you are gathering data using accelerometers, let iTestSystem simplify all those conversions with Integration Analysis.  
About iTestSystem 
iTestSystem is an engineering measurement software platform that enables test engineers to organize, acquire, view, and analyze data from machinery, processes, vehicles and other complex systems. iTestSystem was specifically designed for use with National Instruments (NI) cDAQ or FieldDAQ hardware for data collection and data logging.    
For more information about our iTestSystem or ITM's testing services, contact Ryan Welker @ (844) 837-8797 x702. 
https://itestsystem.com/wp-content/uploads/2021/09/IntegrationAnalysis.png
628
1200
Chase Petzinger
https://itestsystem.com/wp-content/uploads/2020/05/itmlogo_Horizontal_3x1.png
Chase Petzinger
2021-08-30 11:05:19
2023-07-28 22:18:54
Vibration Data Integration Analysis