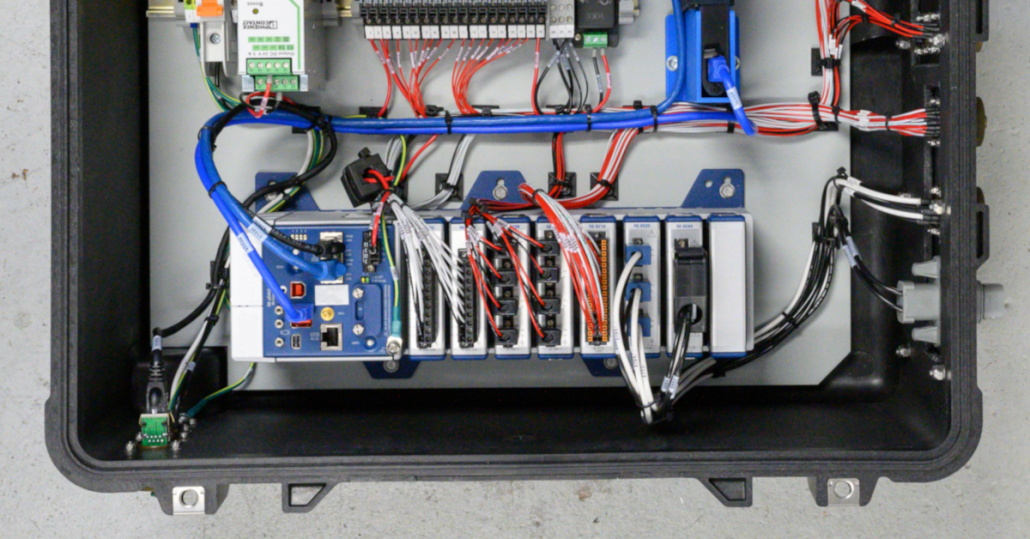 ITM delivers mobile data acquisition solutions to capture real-time feedback under actual conditions

Whether we are testing a new component on a truck that's a thousand miles away or putting an off-highway vehicle through its paces right in front of us, it's our mobile data acquisition products that often lead to ITM's successes.

How have ITM engineers employed mobile data acquisition to create successful tests and find solutions for their clients? Here are two recent examples:

Example 1: Custom in-vehicle data logging solution captures CAN bus information alongside analog sensor data

The R&D office was filled with our client's application engineers as they eagerly awaited a first-ever view of their product — a fan drive— as it performed under the hood of a commercial truck more than a thousand miles away.

A display of gauges, needles and dials showed precisely how our client's product performed during everyday over-the-road stresses. The mobile data acquisition feeds showed fan speed, temperatures around the fan drive, and CAN bus data including engine speed and torque along with coolant, air and oil temperatures. It was an impressive view they had never seen before.

For years this global powertrain technologies company has turned to ITM to gather data for engine-cooling components. Thanks to software innovations at ITM, the firm has taken mobile data acquisition to the next level. Important vehicle information from the CAN (Control Area Network) bus alongside sensor data can be collected and shared real-time, which allows their client to remotely monitor tests as they happen.

"Not only are we correlating information that is broadcast by the vehicle with analog sensor information," says ITM VP of Operations Ryan Welker, "we can gather data and feed it back to our customer in a way that is configurable to their needs. We can also incorporate GPS technology, which is very valuable. Now they can see if a vehicle is traveling up and down steep hills and see what influence it has on duty cycles of their product."

To perform the tests, ITM used a RAC-88 data acquisition package that consists of a National Instruments cDAQ chassis and associated hardware as well as an embedded PC that runs ITM's off-the-shelf iTestSystem DAQ software application. The package is equipped with a broadband router and cellular air cards for remote data connectivity and transmission.

From a pragmatic perspective, Welker points out that the constant monitoring also allows for a far more efficient testing process. Not only do their customers get data quickly (instead of waiting months until a test is complete to begin analysis), but also, any issues that disrupt data collection are brought to light immediately.

Beyond having the ability to build more efficient tests, Welker reiterates the importance of being able to gather more complete data by accessing the vehicle's CAN bus network.

"This opens the doors to a lot more opportunities for customers that build engines and components," he says. "Those vehicles are spitting out all kinds of valuable information over the CAN system that we can now correlate with analog signal test data. This allows us to provide customers with a far more accurate picture of exactly what is going on with their equipment."

Example 2: In-vehicle testing employs mobile data acquisition to assess exhaust system

ITM was challenged with creating a rugged and flexible in-vehicle testing solution to determine the vibration levels of an on-highway vocational vehicle's exhaust system during operation.

ITM engineers chose the high-performance and rugged NI cDAQ-9139 stand-alone system with NI C Series modules along with our LabVIEW-based data acquisition software, iTestSystem, to create a rugged, high-performance and portable exhaust test system for large vocational vehicles. Our solution provided a wireless interface to the stand-alone NI CompactDAQ system to allow the operator remote control and monitoring of the embedded acquisition and logging system.

"The new stand-alone NI CompactDAQ system provides a high-performance and portable system for demanding in-vehicle testing applications," says Mark Yeager, ITM engineer and lead programmer. "Our iTestSystem software, based on NI LabVIEW, combined with stand-alone NI CompactDAQ allows us to build flexible mobile data acquisition systems faster than using traditional logging systems."

ITM has used USB and Ethernet-based NI CompactDAQ systems, and its iTestSystem software, based on NI LabVIEW, for years to build high-performance mobile data acquisition and test systems for our customers in the transportation and in-vehicle space. The stand-alone NI CompactDAQ systems provide a new line of portable and flexible hardware from National Instruments by combining an embedded processor with the modular NI CompactDAQ platform.
Since these new NI cDAQ-913x systems can be used with the same NI LabVIEW system design software, NI DAQmx driver and 50+ existing NI C Series modules, ITM can build new flexible logging solutions for its customers in a very short amount of time.

Designing a Flexible Logging Solution for Exhaust Testing

For this mobile data acquisition application, ITM engineers chose the high-performance and rugged NI cDAQ-9139 stand-alone system with seven NI 9234 accelerometer modules and one NI 9229 module to interface directly to the sensors we leveraged in this application. The standalone cDAQ-9139 was bundled with a cellular network interface and packaged inside a rugged carrying case. For the sensors, ITM mounted 28 piezoelectric accelerometers to the exhaust system and connected them to the seven NI 9234 accelerometer modules. Engineers also installed a magnetic pickup sensor and connected it to the simultaneous, differential NI 9229 analog module to determine rotational speed that would be used later in a post processing order analysis algorithm.

Yeager says they leveraged the Windows Embedded OS running on the NI cDAQ-9139 to make the transition from using NI CompactDAQ USB-based systems connected to a laptop or PC a seamless process. The team used ITM's iTestSystem software, based on NI LabVIEW system design software, to stream data from staged events and operation directly to the NI cDAQ-9139's non-volatile hard drive in a TDMS file format. They were able to control and monitor the daq systems remotely via Remote Desktop by connecting the cDAQ-9139 to a Wi-Fi network using a high speed cellular broadband modem and router with Wi-Fi.

After conducting the mobile data acquisition, all of the TDMS data files were transferred to a computer for post processing and analysis. The analysis for this project included calculating the overall vibration levels for each accelerometer using the order analysis plug-in for iTestSystem software that leverages the built-in analysis functions within NI LabVIEW. Additionally, with the iTestSystem software, they were able to provide the customer with a professional report containing overall vibration levels and order analysis graphs that identified which sensor locations failed or met the design criteria.

Leveraging the stand-alone CompactDAQ systems and  iTestSystem software for this project was a huge success, and the customer was amazed at how quickly ITM was able to integrate new technologies including both NI and third-party hardware and software. With this system, ITM was also able to reduce the overall cost of their test by reducing the manpower needed to perform the test and providing them with instantaneous feedback of the system functionality by utilizing new technologies.

In the end, the customer liked the mobile data acquisition system so much that instead of sending the system back to ITM, they redeployed it onto another on-highway vehicle to solve a different problem.
Contact Ryan Welker via email at ryan.welker@itestsystem.com for more information about our mobile data acquisition products or iTestSystem.
https://itestsystem.com/wp-content/uploads/2020/10/MobileDAQ.png
628
1200
Mark Yeager
https://itestsystem.com/wp-content/uploads/2020/05/itmlogo_Horizontal_3x1.png
Mark Yeager
2020-10-21 22:27:00
2023-07-29 00:18:45
Mobile Data Acquisition Key to Vehicle Component Testing at ITM