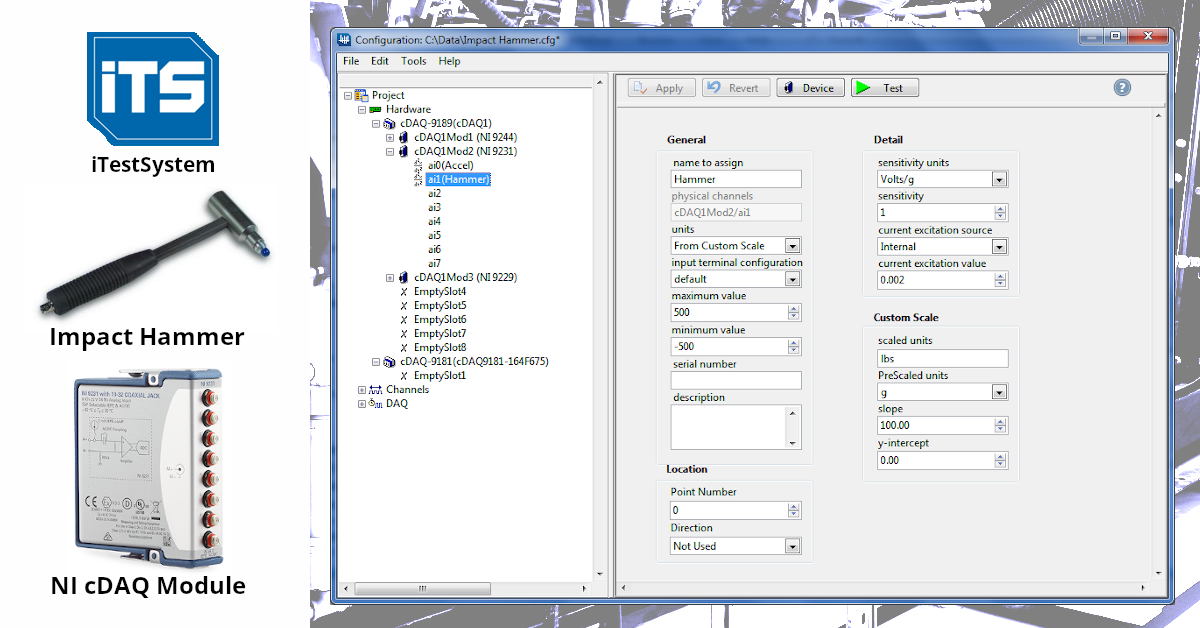 While iTestSystem is designed to collect data from specific sensor types like strain, voltage, current, and accel; custom signal types such as pressure, displacement, and force can also be configured by utilizing the Custom Scale functionality during the channel creation process.
For example, manufacturers often need to measure the amount of force required to install a component using a calibrated impact hammer.  Since iTestSystem does not have a specific channel type for impact hammers, we must create one using a similar channel type.  The channel type most similar to an impact hammer is the accelerometer channel.1
To configure a piezoelectric impact hammer in iTestSystem, first create an accelerometer channel.  An accelerometer channel will supply the impact hammer with IEPE constant current.  From the accelerometer configuration window, change the Units to "From Custom Scale", set the sensitivity to 1, and set the sensitivity units to Volt/g.  Next, set the custom scale: scaled units to lbs, lbf, or N, Prescaled Units to g, and in the slope field, input the lbs/Volt value from the hammer's calibration sheet.  After entering these settings, be sure to hit the Test button to verify your signal and save the settings after verification.
Notes
Most impact hammers are piezoelectric and require IEPE constant current excitation.  Several iTestSystem compatible National Instruments (NI) cDAQ input modules (NI-9230, NI-9231, NI-9232, and NI-9234) can supply IEPE excitation for an impact hammer.  These modules are typically used for piezoelectric accelerometer inputs.
For a free trial of iTestSystem including the custom scale settings or to learn more about impact hammer measurements, contact chase.petzinger@itestsystem.com.
https://itestsystem.com/wp-content/uploads/2019/07/ImpactTest.png
628
1200
Chase Petzinger
https://itestsystem.com/wp-content/uploads/2020/05/itmlogo_Horizontal_3x1.png
Chase Petzinger
2019-07-02 10:55:28
2023-07-29 01:30:09
iTestSystem Tip: Impact Hammer Setup